Veronica Sbircea: Family's plea to missing Kettering teen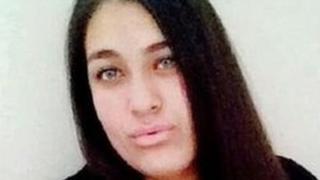 The father of a missing teenage girl has issued a public plea to her to "come back home".
Veronica Sbircea, 15, left her Kettering home on 21 July. There have been no confirmed sightings of her since the end of July.
A man, 19, was arrested and bailed in connection with her disappearance.
Her father Anton said: "Papu is asking you, Veronica, to come back home. Nobody here is angry or mad for what you did."
Veronica was spotted in Ponders End, Enfield, London, on 27 July and in the Brixton area of the city the following day.
Police believe she is still in those areas of London.
Her father added: "Please come back and don't be angry with your mother Elena who loves you very much with all our love.
"Your family cares and is waiting for you to come back home."
The teenager, who is also known as Rachel, is white, 5ft (152cm), with long straight black hair and brown eyes. She was last seen wearing dark leggings and a black top.
She is originally from the London area.
Det Supt Elliot Foskett from Northamptonshire police, said: "We are extremely concerned for Veronica's safety as we have had no sighting of her now for almost three weeks.
"We are hoping that someone out there can help us to find her."