India Chipchase trial: Edward Tenniswood 'entirely self centred'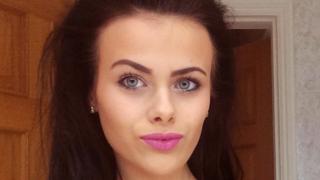 A man accused of raping and murdering a 20-year-old barmaid he met outside a nightclub has been described in court as "entirely self centred".
India Chipchase was found dead at Edward Tenniswood's house in Stanley Road, Northampton in January.
Prosecutors said the defendant had been full of "his own self pity" during the trial, saying things like "it's traumatic redressing a body".
Mr Tenniswood, 52, denies raping and murdering Miss Chipchase.
Summing up at Birmingham Crown Court, prosecutor Christopher Donnellan QC said Mr Tenniswood "even decided to shift the blame onto her... that it was some sort of masochistic event".
The court previously heard the accused say he inadvertently throttled Miss Chipchase through "inexperience and incompetence".
Mr Tenniswood said he had been "over-eager" to sexually satisfy Miss Chipchase and she had "guided" his hands to her neck.
He claimed he failed to notice the part-time barmaid's body was lifeless despite refastening her bra and putting her clothes back on her while wearing surgical-style latex gloves.
For the defence, Samuel Stein described Tenniswood as "an oddball", asking the court: "Why did he redress her? Why did he keep the duvet away from her face? Why did he put her shoes and bag away? Why didn't he get rid of anything? Why didn't he run away? Which one of these actions suggests he is seeking to get away with this awful crime?"
The jury is expected to be sent out to consider its verdict on Tuesday.