India Chipchase trial: Hair 'displayed like halo' on dead body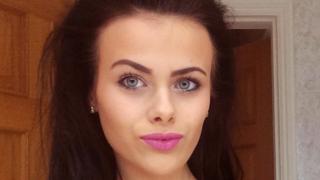 The body of a woman found covered up on a mattress had been displayed with her hair around her head "like a halo", a court has heard.
India Chipchase, 20, was found dead at Edward Tenniswood's home in Stanley Road, Northampton, on 31 January.
Mr Tenniswood, 52, denies raping and murdering the student.
A jury at Birmingham Crown Court has been shown body-camera footage and heard from the police officers who discovered Miss Chipchase's body.
More on this and other news from Northamptonshire
Mr Tenniswood is alleged to have raped and throttled Miss Chipchase after meeting her outside a nightclub on 30 January and taking her back to his home.
Police arrived at the house at about 15:45 GMT the following day and forced their way in.
PC Steven Knight told the court he went straight upstairs to the front bedroom.
"As I got to the doorway I could see a mattress to the front of me with a blanket on top... I could see the shape of a figure," he said.
"The first thing I noticed was the hair at the top of the mattress. Initially I thought it was fur.
"The hair was displayed instead of being down, it was pulled up and around, sort of a halo."
The jury has been shown footage from the scene as officers entered the house and attempted to wake Miss Chipchase.
One could be heard shouting for a paramedic.
Another said: "She's gone, she's gone, sweetheart, wake up... wake up sweetheart, can you wake up... she's gone".
The court has previously heard the accused say he inadvertently throttled Miss Chipchase through "inexperience and incompetence".
Mr Tenniswood said he had been "over-eager" to sexually satisfy Miss Chipchase and she had "guided" his hands to her neck.
However, instead of raising the alarm, Mr Tenniswood went out to buy a kebab and spent 22 hours drinking lager in a hotel until police arrested him.
He claimed he failed to notice the part-time barmaid's body was lifeless despite refastening her bra and putting her clothes back on her while wearing surgical-style latex gloves.
The trial continues.