Corby Tata Steel fined £1.9m for workers' hand injuries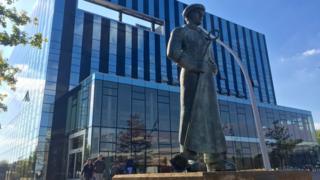 Tata Steel has been fined £1.9m after two workers at its Corby plant suffered serious hand injuries.
A 26-year-old lost two-thirds of his left hand while trying to clear a blockage on machinery in September 2014, Northampton Crown Court heard.
Five months later, a 52-year-old lost two-thirds of his little finger when his hand was caught in a lathe.
Tata Steel admitted two counts of breaching the Health and Safety at Work Act.
The Health and Safety Executive investigated and found the guarding on the two machines was inadequate.
Judge Rupert Mayo ordered the company to pay a fine of £1,985,000 and costs of £22,500, saying the injuries were a result of "two subsequent and avoidable incidents".
Tata Steel, which employs 578 people at Corby and more than 4,000 at its main steel-making site at Port Talbot, Wales, declared its intention to sell all or part of its UK business in March.
The sale is on hold while it considers a European tie-up.