Stem cell match for 'one in nine million' toddler Joey Ziadi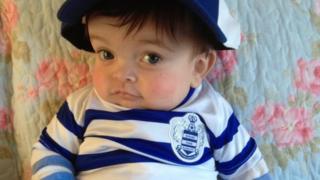 A toddler with a "one in almost nine million" blood disorder has found a matching stem cell donor after a two-year search.
Two-year-old Joey Ziadi was diagnosed with Diamond Blackfan Anaemia when he was six months old - one of only 800 people worldwide to have the condition.
His mum Kaisha Morris, of Northampton, said the news was "amazing".
Anthony Nolan Trust, which supported the campaign to find a Joey match, tweeted it was "incredibly happy".
Read more on this story and other news from Northampton
Patients with Diamond Blackfan Anaemia fail to produce red blood cells properly and in the long-term have a high-risk of complete marrow failure, the trust says on its website.
Blood transfusions provide a short-term fix, but Joey needed a stem cell transplant to provide a long-term cure.
"The phrase one in a million doesn't apply to Joey, it's more like one in almost nine million," Ms Morris previously said.
She said she had been informed of the good news after a recent meeting with a consultant about results of tests on her son's liver.
"The doctor told me a match had come up - it was such a shock to hear," she said.
"Now we're waiting for his liver to heal up as much as possible and the transplant operation should take place early next year."
Ms Morris and the rest of Joey's family have been campaigning to encourage people to join the bone marrow register, which involves a simple saliva test.