India Chipchase murder jury hears from house witness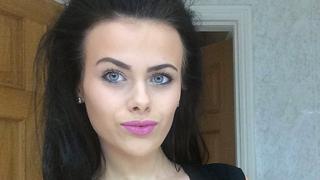 A student was seen stumbling and being led by her arm into a house in which she was murdered, a court has heard.
The body of India Chipchase, 20, was found under sheeting on a mattress at the house in Stanley Road, Northampton, on 31 January.
Edward Tenniswood, 52, of Stanley Road, Northampton, denies murder.
Patrick Francis told the Birmingham Crown Court jury he was in Stanley Road when he saw Miss Chipchase being led into the house.
LIVE: For more on this and other stories from Northamptonshire
The prosecution claims Mr Tenniswood "led, steered or escorted" the social care student and part-time barmaid to a taxi, took her to his rented terraced house in Stanley Road and then "raped and throttled" her.
The defendant, who worked as a bookkeeper, also denies raping Miss Chipchase.
Mr Francis said he was smoking a cigarette in the early hours of 30 January when he saw a young woman and a "much older" man walking side-by-side down Stanley Road.
"She seemed as if she was drunk because she was holding on to the railing, and the guy with her was by her side," he said.
The witness said he found it strange that neither acknowledged him as they passed.
"The man started helping the woman across the road, he was leading her by the arm," he said. "He opened the door and guided her in."
India Chipchase death: A timeline
Edward Tenniswood turned up outside NB's cocktail bar in Northampton in the early hours of 30 January and was overheard by others saying to Miss Chipchase he would "get her home safe"
Mr Tenniswood checked into the Ibis Hotel in Mare Fare at about 21:30 on 30 January
Miss Chipchase's body was discovered inside his home at about 15:30 on 31 January
He was arrested three hours later when he returned home
Mr Tenniswood appeared before magistrates on 2 February charged with her murder. He went on trial on Tuesday
The jury had earlier heard Mr Tenniswood turned up outside NB's cocktail bar and nightclub in Northampton in the early hours of 30 January when Miss Chipchase was in a "fairly pickled state" and could "barely stand up".
Her friend Alice Lewis told the jury she and Miss Chipchase were part of a group who had gone to the club.
But when Miss Lewis returned from the bar with drinks, Miss Chipchase had gone.
The trial continues.