Brackley Aircraft crash: Pilot had three hours solo flying experience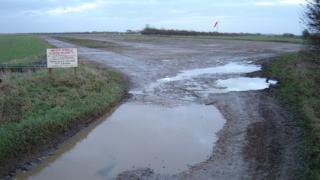 A pilot with three hours solo flying experience died when his light aircraft bounced off the ground during landing, accident investigators have said.
Adam Abraham, 39, from south-west London, was killed at Hinton-in-the Hedges airfield, in Northamptonshire on 4 September.
The Air Accidents Investigation Branch said the plane stalled and fell nose first after bouncing during landing.
He had started flying lessons three months earlier, investigators said.
The Air Accidents Investigation Branch (AAIB) found after bouncing off the ground Mr Abraham had lifted the Cessna 150F back into the air and "for reasons that could not be determined" extended the wing flaps but did not control the plane's natural tendency to pitch up.
The aircraft then lost speed and stalled before entering a spin and hitting the ground nose first.
East Midlands Ambulance Service arrived at the airfield within minutes but could not save him, the AAIB said.
The fatal crash happened in the same location where outgoing UKIP leader Nigel Farage was injured in a plane crash.
He was pulled from the crushed cockpit after an election banner caused it to crash in May 2010.