Eloise Burton-Cope: Baby death review calls for new mental health services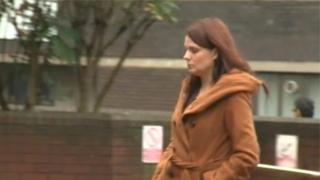 The case of a mother who killed her 18-week old baby shows more help should be given to parents with mental health issues, a report said.
Baby Leon, named as Child M in the serious case review, died in hospital in March 2014.
His mother, Eloise Burton-Cope, was later convicted of manslaughter, having told police she had shaken him.
The court heard she had had mental health problems and had been suffering from severe post-natal depression.
On 29 March 2014, the report said Child M's mother called 999 to report he was "unresponsive... gulping for air, floppy and struggling to breathe".
The baby boy was taken to a Paediatric Intensive Care Unit (PICU). He died on 30 March.
No awareness
A serious case review, published jointly by the Northamptonshire and Milton Keynes Safeguarding Children Boards (NSCB and MKSCB), said "communication was the central concern" in this case which "needs to be improved".
It has also recommended a "clear and multi-agency pathway" to support parents with mental health issues before and after birth and a special perinatal and infant mental health service with dedicated staff should be set up.
Keith Makin from the NSCB said it had already supported agencies to make changes including improved communication.
Until his death, Child M had been described by health care professionals as a happy, healthy baby with no known health difficulties.
The baby's mother, from Deanshanger, Northamptonshire, had been diagnosed with depression in 2001.
The report detailed an "intense period" around the birth of Baby M when his mother's mental health was being regularly monitored but there was no mention of any concerns on her discharge summary.
After this, her main contact was with children's centre staff who had little or no awareness of any concerns and were therefore not in a position to provide support.