Police chief denies 'dramatic' changes to Northamptonshire force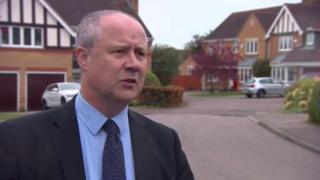 A police chief who axed or changed five of his predecessor's policies in his first two months in office has denied making "dramatic changes".
Stephen Mold, who calls himself "PCC 2.0", succeeded fellow Conservative Adam Simmonds as Northamptonshire police and crime commissioner in May.
The changes include the scrapping of plans to recruit 900 specials and the closure of a faith-based initiative.
Mr Mold said he was making "important tweaks".
Mr Simmonds said of Mr Mold: "He has my full support if his efforts as PCC ultimately make Northamptonshire safer in the coming days and its police force one of the best in the country."
Mr Mold said: "I think I'm just making some important tweaks that will make real positive differences.
"I'm PCC 2.0. I want to learn from the past."
Adam Simmonds vs Stephen Mold: Five key differences
Burglary arrests on the decline
363
Arrests in Northamptonshire for dwelling burglaries in 2015-16
485 Arrests in 2014-15

363 Arrests in 2013-14

155 Number of burglaries not attended last year
•Adam Simmonds completed a deal to sell off part of the police headquarters to house a free school the day before Stephen Mold took office - a decision Mr Mold said he "would've done differently"
•The Office for Faith-Based and Community Initiatives was one of Mr Simmonds' flagship projects, but Mr Mold scrapped it in his first month of office
•Mr Simmonds' large scale recruitment campaign for Specials, with a final target of 900, has been axed with Mr Mold preferring to "focus on quality, not quantity"
•Plans for a full alliance with Leicestershire and Nottinghamshire Police have been mothballed, with Mr Mold saying he will concentrate on back office functions and human resources
•Mr Simmonds made violent crime his top priority - pledging to cut it by 40% in four years. His successor instead promised a crackdown on burglary, with each incident to be attended by police within 48 hours
Some critics of Mr Simmonds backed the policy shifts, with ex-policeman Justin Brown claiming it has ended Mr Simmonds' days of "empire building".
Mr Brown, who served with Northamptonshire Police for 20 years and ran in the PCC election, said a lot of Mr Simmonds' projects were "unnecessary, costly, misguided and implemented without proper consultation".
He said Mr Mold has ended the "high profile and more political use of the role" employed by Mr Simmonds.
Chairman of the Northamptonshire Police Federation Gez Jackson said Mr Mold is "very much his own man," whereas Mr Simmonds' reign had been "legacy based".
"He's brought a little bit of calmness and stability," he said. "He's not bringing in things from leftfield".