Lindsay Lohan asked to turn on Kettering's lights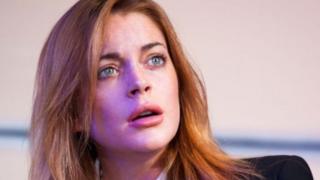 Actress Lindsay Lohan has been invited to turn on Kettering's Christmas lights by the Northamptonshire town's MP to make up for an "offensive tweet" on referendum night.
Miss Lohan tweeted "#REMAIN Sorry, but #KETTERING where are you", during coverage of the count.
Conservative Philip Hollobone, who supported the Leave campaign, said the tweet was "fierce and offensive".
He said her appearance in the town would redeem her political reputation.
'Everyone knows Kettering'
Speaking in the House of Commons Conservative MP Mr Hollobone said her tweet implied that she had never heard of Kettering and said it also implied that no-one had heard of the town - before listing the town's accolades.
He said: "Everyone knows where Kettering is - it's famous as the home of Weetabix breakfast cereal, Cheaney and Loakes shoes. And Kettering Town Football club has scored more goals in the history of the FA cup than any other football team in the country."
He said she should come to the town and "redeem her political reputation" by switching on the lights.
Social media users reacted with a mixture of surprise, sympathy, and humour.
One said "to be fair to Lindsey, I doubt I could point to it on a map".