Wellingborough businesswoman appointed MBE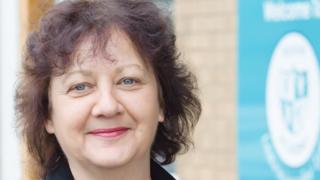 A businesswoman who has helped thousands of people into work has been recognised in the Queen's Birthday Honours list.
Rachel Mallows, from Wellingborough, Northamptonshire has been appointed MBE for services to Business and Entrepreneurship.
Mrs Mallows, 53, has set up several companies.
She said: "I'm deeply touched and slightly embarrassed but it is fabulous."
She is one of seven people from Northamptonshire to be honoured.
'Stepping stone'
Mrs Mallows set up the Mallows Company Ltd - which supports jobseekers - 30 years ago.
She said she owed her achievement to her work team and to mentorship, which is the basis of her company.
She said: "I have a real strong belief that everyone had greatness within them, everyone is capable of great things - sometimes you just need a mentor or a coach or and advisor to help you go off and do something different.
"That's fundamentally what we do is help people to move on, wherever they are in their work and life, we are a bit like a stepping stone. "
Mrs Mallows also set up the Made in Northamptonshire company to support those who make and sell items or produce made in the county.
The other six honoured were:
David Harries, British Empire Medal for services to the community in Bugbrooke
Theresa Jane Wright, British Empire Medal for charitable services to Gosset Ward Special Care Baby Unit, Northampton General Hospital NHS Trust
Matthew Jeremy Toresen, community development officer, Voluntary Impact, OBE for services to lesbian, gay, bisexual and transgender (LGBT) equality
Elaine Jane Nicholson, founder and chief executive officer, Action for Aspergers, OBE for services to to education and Aspergers awareness
Michael Rodden, arson task force, Northamptonshire Fire and Rescue Service, OBE for services to community safety and the community
Suzanne Billingham, OBE for services to the community in Brackley