Sisters paralysed in Wellingborough road rage crash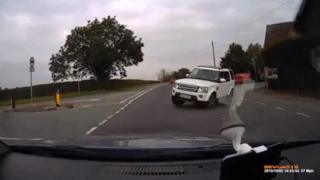 Two young sisters were left paralysed after a Jaguar Land Rover manager smashed his 4x4 into their father's car during a "bullying" road rage chase, a court heard.
Katrina and Karlina Raiba, aged five and eight, were left with life-changing injuries in the crash on the A509 near Wellingborough, Northamptonshire.
Before the crash, Andrew Nay had been tailgating and "bullying" another driver, Northampton Crown Court heard.
He is due to be sentenced on Friday.
The judge said the evidence against Nay during the three-day trial was "overwhelming".
He had admitted four counts of causing serious injury by dangerous driving but denied chasing the Mazda before hitting the victims' Vauxhall Signum.
Judge Adrienne Lucking QC rejected Nay's testimony that he had noticed "nothing in particular" during his journey and was turning into a garden centre in his Land Rover Discovery when the crash happened.
'Devastating consequences'
During the trial, the court heard witness accounts of his "absolutely ridiculous" right-hand turn across oncoming traffic on 3 October last year.
Judge Lucking ruled Nay, of Harrier Close, Weldon, Corby, had "harried" the Mazda people carrier after being prevented from leaving a roundabout on the A14.
"I have heard evidence from a series of witnesses travelling in the same direction as the Land Rover," she told the court.
"In each case their evidence was given in measured terms, without exaggeration.
"By contrast I found the defendant's evidence unconvincing and inconsistent."
Katrina and Karlia's parents said Nay's "reckless actions" had "devastating consequences" for the girls.
"Every day they ask 'when will we start feeling our legs again?' They think it's going to get better and it's too hard to tell them," they said.
Nay was told an immediate custodial sentence could be handed down.