Desborough residents anger at 400% council tax increase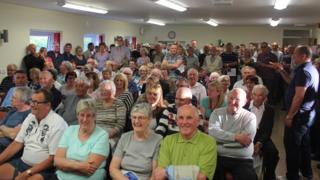 Hundreds of residents have called for a vote of no confidence in their town council following a 400% increase in council tax.
Desborough Town Council was met with anger when it increased the annual levy from £19.10 to £96.98.
More than 250 residents have since backed calls for the vote of no confidence.
Councillors argued that the money is needed to fund a "truly wonderful future for Desborough".
'Gathering momentum'
Kevin O'Brien, who proposed the motion, said residents agreed to formally call for the vote, which will now be submitted to Kettering Borough Council for permission.
Should it be approved, the campaigners say they could have a poll as soon as June.
Mr O'Brien said: "It will hopefully lead to more consultation with the town council."
The town council published a long statement defending the decision.