Darren Kelly 'killed by teenage paedophile vigilantes'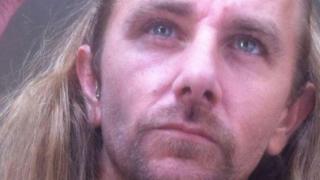 A teenage girl recruited a gang of friends to lure a man to his death after mistakenly deciding he was a paedophile, a court has heard.
Lorry driver Darren Kelly, from Basildon, Essex, was kicked, punched and stabbed to death near his home last October.
Four people, including the 16-year-old girl, have denied his murder.
The girl had launched a "personal campaign" against paedophiles, Chelmsford Crown Court heard.
She had previously arranged to meet two men she had befriended online in the hope they would be arrested, prosecutor Crispin Aylett told the court.
The girl spoke to 42-year-old Mr Kelly using the anonymous messaging app Whisper before making a plan to attack him, he said.
"The girl instigated this attack by forming a group of teenage vigilantes in order to attack a 42-year-old man that she had met online," Mr Aylett said.
"She had told the others that the man was a paedophile and as a result he was punched, kicked and then stabbed to death in the street," he said.
Describing the case as being "as disturbing as it is extraordinary", Mr Aylett said there was no evidence Mr Kelly was interested in under-age girls.
He added: "In fact, there is plenty of evidence to suggest precisely the opposite."
Officers asked her why she had arranged to meet the two other men, aged 23 and 67, after befriending them on Facebook,
She replied: "Because they're perverts and I don't think perverts should be around and I don't see anybody else doing anything about it."
Chris Carroll, 20, of Pevensey Close, Pitsea, along with two 17-year-old boys and the girl, who cannot be named for legal reasons, all deny murder.