Poo bag fines not issued for six months during 'education phase'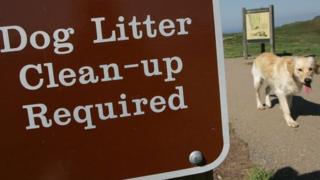 A local authority that can fine dog walkers who do not carry poo bags has not imposed any penalty notices, six months after the measure was approved.
Daventry District Council was believed to be the first authority to bring in the new powers in October last year.
Dog walkers who leave home without the means to clear up after their dog can be given £100 on-the-spot penalties.
A spokesman said the first six months had been an "education phase", with officers reminding owners of the rules.
"Full enforcement of the scheme only began on April 1 and no penalties have been issued yet," he added.
The extra power for enforcement officers comes in the form of a Public Space Protection Order (PSPO), with fines issued regardless of whether a dog creates a mess.
The council mooted the idea last year and said it had "the potential to be controversial", but the plan was met with "overwhelming support" following a public consultation.
It introduced the measure on 1 December and said there would be a month of offering advice and warnings before fines were enforced.