More beds at Northampton Hospital would 'save money'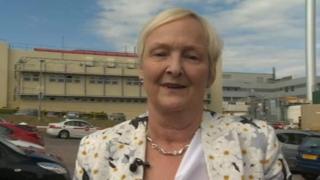 More beds are needed to address a deficit of £20m at a hospital where staff face a "battle every single day" to provide for patients.
Northampton Hospital's Chief Executive Sonia Swart said 60 to 120 new beds are required to cope with daily pressures.
She said: "Additional bed capacity would ensure patients operations weren't cancelled at the last minute."
The Nene Clinical Commissioning Group said more beds are sometimes needed for people to get the right care.
The hospital is currently bidding for money to provide 60 additional beds in a temporary building on a car park.
Dr Swart said if they do not secure the cash for the unit to open this year, the hospital will overspend on its budget even more than the £20m it has this year.
She said the extra beds would allow the hospital to run more efficiently, with more non-clinical staff assisting clinical staff, improved patient flow, and a "massive impact on the efficiency of surgical services impacted by emergency medical pressures".
"If we had additional bed capacity we could ensure patients' operations weren't cancelled at the last minute," she added.
Two weeks ago, the hospital had 30 patients waiting for beds on a Monday morning and nowhere to put them.
For more on this story and other news in Northamptonshire visit our live page
Dr Swart said the system is "full to bursting," meaning acutely ill patients are being looked after in other parts of the hospital meant for alternative purposes.
"All of that means there is huge pressure on staff to provide the kind of care they want to," she added.
Dr Matthew Davies, from the Nene Clinical Commissioning Group - which commissions healthcare for Northamptonshire - says Northampton Hospital's need for extra beds is not just down to A&E admissions, but because the NHS "struggles to keep people at home".
He said more needs to be done to "prevent patients, especially older people, going to hospital".