Northamptonshire's fire chief retiring after fight to stop funding cuts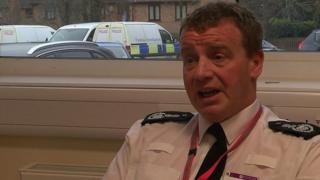 A fire chief says rows over budget cuts were partly to blame in his decision to leave the service.
Adrian Davies, Northamptonshire's acting chief fire officer, campaigned hard against the county council's plans to cut £1.3m from the fire service.
The cut was reduced to £800,000, but Mr Davies said he upset many people during the course of his "vocal" campaigning.
Councillor Andre Gonzalez De Savage from Northamptonshire Council said it was "a tough time".
'Quite outspoken"
Mr Davies has served as acting chief fire officer for the last nine months, and has worked for the fire service for 30 years.
He said he was pleased with the final decisions made to fund the fire and rescue service.
He said: "We did very well in the end. I fought very hard for the service through December and January and that I was what part of what influenced my decision really. I had been very vocal... I did fight quite hard and I was quite outspoken."
When asked if he upset a few people, he said "Yes, I think so" - but added that he would not be tempted to remain in post to oversee the full review of the fire and rescue service.
He said: "I was tempted to see it through but it would take two years.
We have done a lot of the groundwork for the review...it's time to hand it over to somebody new."
Mr De Savage said: "We have been set a tough challenge - the four-year plan we have is not an easy one."
He added that the council would be advertising for a new fire chief in the coming weeks.