Northampton Town Supporters' Trust keeps cash as 'rainy day fund'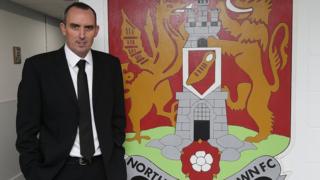 Almost £30,000 raised by a football supporters' trust to save a club threatened with administration will be kept as a "a rainy day fund".
The cash is part of about £45,000 raised through online fundraising and bucket collections for Northampton Town when its future looked uncertain.
It has since been taken over by Kelvin Thomas.
The Trust said the club had twice been on the brink of collapse since 1992 and "times may not always be as rosy".
In all, Northampton Town Supporters' Trust raised £37,000 from Crowdfunding, as well as around a further £8,000 from bucket collections, eBay and donations.
It loaned £10,000 of the money to the club in a hardship fund to help staff unpaid for two months support their families in the run-up to Christmas.
The Cobblers also took up an offer to pay for an away coach for a game against Crawley Town in November.
Once Mr Thomas took over the club, the Trust asked supporters to decide what to do with the remaining funds.
They voted to ring-fence £5,000 to donate to the next supporters' trust that finds itself in crisis, in recognition of the fans from other clubs who contributed to the fund-raising push.
They also wanted to acknowledge the "generosity and friendship" shown by Coventry City fans, who raised £4,000 in a bucket collection, so they will donate £1,000 to its supporters' trust.
The remaining £29,000 will be kept to allow the Trust to "act quickly and efficiently" should the Cobblers need help in the future.
James Averill, from the Trust, has previously said returning the money would be "logistically awful".
In November last year, Northampton Borough Council had lodged a petition asking for the club to be put into administration over an unpaid £10.25m loan earmarked for the development of Sixfields Stadium.
The insolvency threat was lifted at the High Court on December, when the authority confirmed it had struck a deal with new owner Kelvin Thomas over the loan.
Documents seen by the BBC indicated the money had been "misappropriated" by developer Howard Grossman and his associates - a claim they deny.