Man died in chip pan fire 'trying to save dog'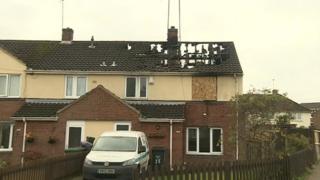 A man killed in a chip pan fire might have died while trying to rescue his dog, an inquest has heard.
William Robertson, 46, known as Craig, died of smoke inhalation at his home in Brixham Walk, Corby, Northampstonshire, in October.
Mr Robertson did not make it out of the living room, the inquest heard, and his attempt to save his dog also failed.
Fire investigator Kelvin Hallen said he may have been overcome by smoke after entering the room to save his dog.
A verdict of accidental death was recorded at Kettering Magistrates' Court.
Mr Hallen said: "He may have gone back into the living room to get his dog when he was overcome by smoke."
He said Mr Robertson had tried to put the fire out with water, which only made it worse.
Alcohol 'a factor'
Rachel Clark, the girlfriend of Mr Robertson's son Richard, told the inquest that she was in an upstairs room when she smelt chips cooking.
She said: "It started as a haze...then I was engulfed in thick black smoke. I knew then that the house was on fire."
Ms Clark said she jumped from the window on to the porch to escape and told the emergency services there was a man inside.
By the time the emergency services went into the house they found Mr Robertson was dead.
Forensic Pathologist Dr Stuart Hamilton said Mr Robertson had been drinking on the night and said that alcohol would have been a factor in his death, along with smoke inhalation.
He said a combination of the alcohol combined with the fact that he had an enlarged heart and high blood pressure would have meant he was more easily overcome by smoke than a young healthy person.
Mr Hallen said the fire that killed Mr Robertson was "serious and well developed".
Unused smoke detectors were found in a bag at the house.