Royal Navy veterans win asbesto compensation battle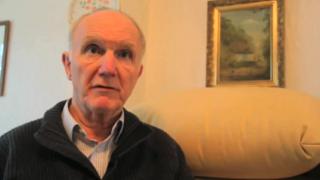 A Royal Navy veteran who has a terminal lung condition caused by exposure to asbestos has now been told he will be entitled to compensation.
Fred Minall, 74, of Northampton, was exposed to asbestos while working as a naval engineer from 1958 to 1963.
But originally military staff were not allowed to claim compensation in the same way civilians could.
Now the law has been changed to allow Mr Minall and other veterans to each receive a lump sum of £140,000.
Mr Minall had been diagnosed with mesothelioma in October 2015.
In a statement, issued this week, the Ministry of Defence said: "On 16 December 2015, the MoD changed the rules to allow veterans diagnosed with mesothelioma on or after that date to have the choice between a one-off, tax-free lump sum or regular, smaller payments.
"The department has now extended the eligibility for the lump sums to those diagnosed before that date."
Mr Minall said he welcomed the change of policy by the MoD.
"This news is marvellous and I could not have wished for better. To know that my three sons and their families will benefit from the effort that has gone into getting this unfortunate issue resolved is very satisfying," he said.
Defence minister Mark Lancaster said: "It is right that we do more to support veterans affected by this condition - it's part of our commitment to our Armed Forces. This change will give them more choice and control."
Chris Simpkins, director general of the Royal British Legion, said: "The Government has done the right thing and we appreciate the effort that has gone into accommodating the 60 people who were missing out."