Wife-murdering police officer Adrian Goldsmith sacked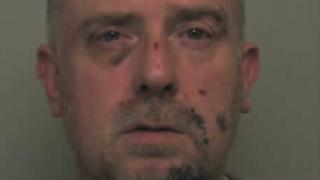 A police officer who murdered his wife has been officially dismissed from his force.
PC Adrian Goldsmith, 50, beat his wife Jill to death in March. He was convicted of murder in January and jailed for life.
Goldsmith was found guilty of gross misconduct in a disciplinary hearing at Northamptonshire Police headquarters.
The panel found Goldsmith's actions were a "gross betrayal of the force's values".
Chief Constable Simon Edens, who chaired the disciplinary hearing, expressed his sympathy to the family and friends of Mrs Goldsmith.
He said: "As an officer of Northamptonshire Police, PC Goldsmith represented the force, and his actions were a gross betrayal of the force's values as well as society's standards.
"His actions leave me with no other conclusion than to say he is not fit to be a police officer and is therefore dismissed without notice from the police service."
Mrs Goldsmith was found dead in the foetal position at the home the couple shared near the force headquarters in Wootton Hall Park.
She had more than 70 injuries and had been beaten with a tin of paint, a box battery, a mallet and had been throttled.
Goldsmith, known as "Otis", told officers and the court at his trial that his wife attacked him before hitting herself on the back of the head with a mallet - but a jury found him guilty and he was ordered to serve a minimum of 15 years behind bars.
At the time of the murder Goldsmith had worked for Northamptonshire Police for 28 years.