Arrest after Northampton youth club spray attack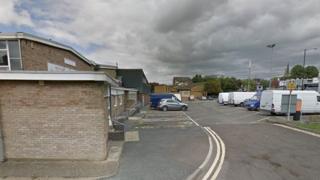 A 19-year-old has been arrested after 10 people at a youth club were sprayed in the face with a chemical substance.
The victims suffered "irritation to the eyes and face" when four offenders are thought to have stormed Spring Boroughs in Northampton.
It is believed they used an alkaline-based irritant, which quickly evaporated once sprayed.
A 19-year-old arrested on suspicion of causing actual bodily harm is being questioned by police.
Northamptonshire Police officers were called to the club in Tower Street at about 20:10 GMT on Monday.
The offenders left the scene in a small black vehicle, said police.
All victims have since been discharged, not requiring any further treatment.
Anyone with information is asked to call Northamptonshire Police.