India Chipchase: Man charged with murder of Northampton barmaid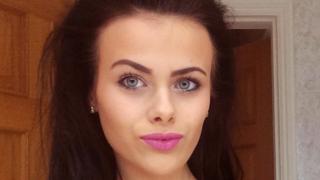 A 51-year-old man has appeared in court charged with the murder of barmaid India Chipchase.
The 20-year-old was reported missing in the early hours of Saturday after a night out with friends in Northampton.
Her body was found in the town on Sunday afternoon. A post-mortem examination concluded she died as a result of pressure to the neck.
Edward Tenniswood, of Stanley Road, Northampton, appeared before Northampton Magistrates' Court.
He was remanded in custody and is due at the town's crown court on Thursday.
Ms Chipchase was last seen by friends on Bridge Street at about 01:15 GMT on Saturday.
For more on this story and others visit the BBC Northamptonshire Live page
Her disappearance was reported later that day after she failed to turn up to work at The Collingtree pub and restaurant.
Her body was found at the defendant's terraced house on Stanley Road.
Mr Tenniswood spoke only to confirm his name to the magistrates. His solicitor said he had no representations to make.
Ms Chipchase's boyfriend, Evaan Reihana, paid tribute to her on Instagram.
Mr Reihana, who plays rugby in France and is the son of former Northampton Saints player Bruce Reihana, said: "I honestly can't believe to think even now that you have left us in that way miss India eve Chipchase.
"I honestly hope that you rest in peace Hun and that I will be playing for you for as long as I know."
Ms Chipchase's father, Jeremy Chipchase, is a doctor currently specialising in obstetrics and gynaecology in Adelaide, Australia according to The Advertiser.
Northampton Saints players on social media
India Chipchase was a fan of Northampton Saints RUFC and many staff and players have paid tribute to her.
Ben Cohen, the former England and Northampton player and Strictly Come Dancing contestant, tweeted his condolences.
Current player Howard Packman tweeted it was a "waste of a beautiful life".
Tom Collins wrote: "Shocked, Ridiculous how messed up this world can be... A life taken far too soon."
'Hardworking, intelligent'
Ms Chipchase was a student at Northampton College between September 2013 and June 2014 and took a diploma in health and social care.
Her former lecturer, Jo Forester, said: "She was a well-liked member of her group by both staff and students for her caring nature and sense of humour.
"She was a hardworking, intelligent young lady who possessed the maturity to complete all the targets she set herself regarding her college work and placement experiences."