Killer officer Adrian Goldsmith was 'ready to explode'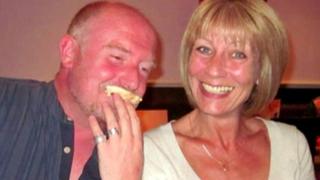 Outwardly Adrian Goldsmith was a respected police officer, but he was described as a "Jekyll and Hyde" character with an explosive temper by the wife he brutally beat to death.
The 50-year-old bludgeoned Jill Goldsmith's head with a variety of weapons including a wooden mallet, a paint tin and a large battery at their home near Northamptonshire Police HQ in March.
She suffered more than 70 injuries, including defensive wounds, as she lay in the foetal position where she died.
A jury at Stafford Crown Court dismissed his claim that he acted in self-defence and convicted him of murder.
Goldsmith had written copious notes to himself and his wife in the summer before her death, the court heard.
In one he said his 49-year-old wife had compared him to Jekyll and Hyde.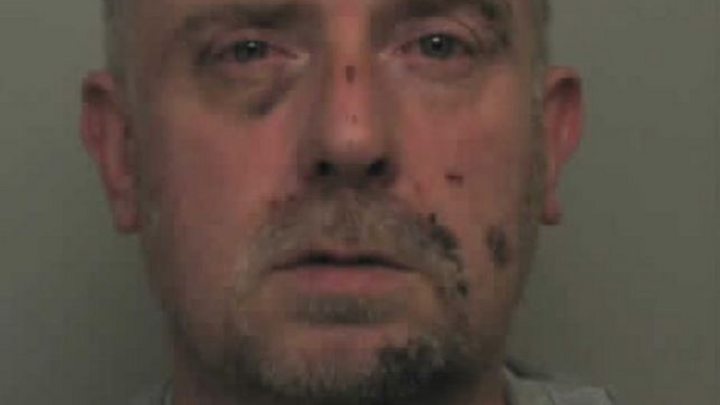 Prosecutor John Lloyd-Jones QC agreed, and said he was a "commended hard working officer and murderer all wrapped up in one".
In one letter he wrote that he was "ready to explode" and was "genuinely scared what happens when the switch gets flipped".
Computer-typed and amounting to 23 pages, the rambling self-analysis reveals the officer had "scared Jill", who was "increasingly concerned about my behaviour".
"It was the venom that came out of my mouth. Like someone else was saying it," he wrote.
"When I'm out of the house I scan my surroundings like the Terminator.
"Even walking in the countryside I will identify a stick I could use as a weapon somewhere in case we come across someone who tries to mug us.
"I've gone a bit weird like that.
"My fear of losing my temper or control, because I'm afraid of what I might do".
By Elinor Cross
Adrian Goldsmith sat in the dock taking notes throughout the trial.
While giving evidence he made jokes. He compared his martial arts skills to someone on Strictly Come Dancing and said that he was the "old man at the back" in classes, disputing the prosecutor's claims that he was an expert in self-defence.
There were no tears from Goldsmith during the trial, the only sign of emotion was when he dropped his head into his hands when the court heard he faked his injuries to make it look like his wife had attacked him with a knife.
He also buried his head in his hands when the guilty verdict was delivered
In his notes, he said the couple were "at each other's throats" during their summer 2014 honeymoon, when he felt he was becoming a "doormat and a punch bag".
During the trial, he claimed his wife was addicted to cannabis and had previously gone "berserk" and held a knife to his throat.
Days before her death, he secretly recorded her in the bathroom of their home.
He said it was to show how much cannabis she was smoking, but it captured her saying she was scared of him.
Prosecutor Mr Lloyd-Jones said that on the day of her murder, Goldsmith and his wife and had argued over something and he had overreacted.
"He struck her repeatedly to the head after she started bleeding, long after you may think she could have posed any threat to him.
"He used a mallet, he used his hands, he used a can of paint and a battery, and he was at the time a trained officer," Mr Lloyd-Jones said.
Goldsmith told police that she had picked up a mallet and hit herself on the back of the head with it. He had superficial stab injuries but he admitted they were self-inflicted.
"He fabricated evidence to make it look like he had been stabbed by his wife to try and fool his colleagues and you the jury," Mr Lloyd-Jones added.