David Cardoza arrested over £10.25m Northampton Town Football Club loan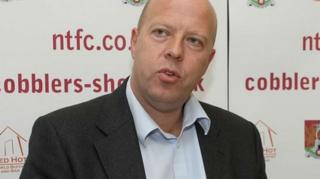 The ex-chairman of Northampton Town FC has been arrested by police investigating a £10.25m loan given to the club by the borough council.
Police are investigating "alleged financial irregularities" in relation to the loan, which was designed to help the club develop its Sixfields Stadium.
David Cardoza, 45, was arrested on Monday morning and has been released on bail.
Det Ch Insp Paul Spicer said it was a "very complex investigation".
For more on David Cardoza's arrest visit BBC Local Live in Northamptonshire
The purpose of the loan was to build a new stand, hotel and conference centre, none of which has been completed.
Work on the half-built East Stand ceased last June, with the League Two club saying it could not afford to repay the loan.
The Cobblers have since been taken over with a memorandum of understanding now allowing for the club's debt to be wiped out in return for the council acquiring land around Sixfields for development.