Jill Goldsmith murder scene was 'carnage', court told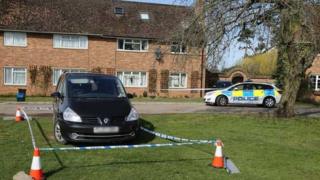 A detective on trial for beating his wife to death in the porch of their home said the scene was "carnage", a court has heard.
Jill Goldsmith was found in a pool of blood and with multiple head wounds at the house in Northampton last March.
Adrian Goldsmith denied murder saying that he hit his wife because she had come at him with a knife.
He told police he had "continually hit" her with a variety of weapons because he felt that she was going to kill him.
'Red mist'
Mr Goldsmith, who calls himself Otis, was arrested after calling emergency services to the house.
In a series of recorded police interviews read out at Stafford Crown Court, Mr Goldsmith told police his wife was psychotic and addicted to cannabis.
He said she came at him and threatened him so he hit her with a mallet, but the mallet failed to stop her attack.
The statement read: "The weird thing is it had absolutely no effect, she turned around aghast...it didn't stop her in her tracks. I thought I hit quite hard and it would have the desired effect.
"I dropped the mallet...you could see the hate, the red mist".
Mr Goldsmith said he hit her "until she stopped" as he said she was "so strong".
'Blood splatter'
Prosecutor John Lloyd Jones QC told the court that Mrs Goldsmith weighed 6st 7oz and that Mr Goldsmith weighed more than 12st.
Mr Lloyd Jones said: "This man lost his temper with his wife and in that rage beat her to death using a variety of different weapons and when he did that he intended to kill her.
"Blood spatter on the porch wall proves this defendant hit her while she lay on the floor as she lay bleeding...he struck her repeatedly to the head after she started bleeding, long after you may think she could have posed any threat to him.
"He used a mallet, he used his hands, he used a can of paint and a battery, and he was at the time a trained officer."
The trial continues.