Accused policeman's dead wife 'used cannabis'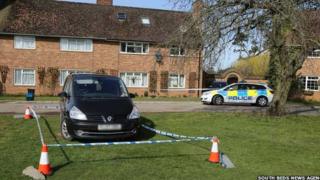 The son of a policeman accused of killing his wife said his father was "genuinely afraid" of her.
Adrian Goldsmith, 49, known as "Otis", denies murdering Jill Goldsmith at their home in Northampton.
She was found dead in a pool of blood in their porch in March.
Michael Goldsmith told Stafford Crown Court his stepmother regularly smoked cannabis at their house next to Northamptonshire Police's headquarters on Wootton Hall Park.
The trial, which began last week, heard that a can of paint, a battery and a mallet were used in the attack on 26 March, although the defendant said they were used in self-defence.
The couple, who married in May 2014, had considered divorce but planned to move to the countryside for a fresh start, the jury was told.
'Screaming at me'
Michael Goldsmith told the court he was not allowed to enter the main room of the house and that his father was only allowed to enter when he was wearing clean clothes.
He told the jury his stepmother, 49, tried to cover up her use of cannabis in the house with air freshener.
He said: "I scratched the coffee table. It wasn't that noticeable, but dad came running down the stairs - she was screaming at me.
"It was quite a shock... a display of anger.
"It wasn't pleasant to be around. Dad was genuinely afraid."
For this and other stories, visit the BBC Northamptonshire Live page
Earlier in the trial, prosecuting counsel John Lloyd-Jones QC said Adrian Goldsmith "enjoyed drinking alcohol and unfortunately his personality could change - he could turn nasty and this made his wife feel frightened of him."
Charlie Bailey, the dead woman's son, also appeared in the witness box.
He said of the defendant: "Initially, I thought he was OK.
"I felt he may have had two sides to him - that was my feeling."
The trial is expected to last for another two weeks.