Molly-Mae Wotherspoon's mother denies Daventry dog death charge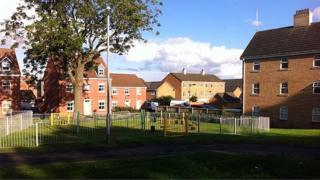 The mother of a baby girl who was mauled to death by a banned breed of dog has denied being in charge of a dangerously out-of-control animal.
Six-month-old Molly-Mae Wotherspoon died after a pit bull-type dog attacked her in Daventry in October 2014.
Claire Riley, 24, of West Cotton Road, Northampton appeared at Northampton Crown Court to plead not guilty.
The baby's grandmother Susan Aucott, 55, of Alfred Street, Northampton had previously denied the same charge.
A trial is due start on 7 June.