Second Corby to Kettering railway track laid to meet passenger demand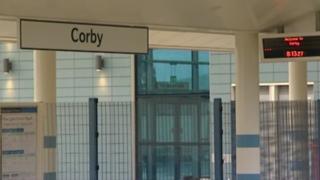 Work has started on a multi-million pound project to lay a second railway track linking Kettering and Corby in Northamptonshire.
A new station opened in Corby in 2009, ending its status as the biggest town in Britain without a rail connection.
Its single track has limited service development while passenger demand has grown rapidly, Network Rail said.
Seven miles of new second track are now being laid to enable seven trains an hour in each direction by 2018.
Work has continued over the Christmas period when the line was shut completely.
The Corby line is a branch of the Midland Mainline, which is being electrified north of Bedford.
"This will allow faster and more frequent trains in future with direct links to London," Network Rail said.
"The new second line is needed because the service is so popular.
"Part of the £38m investment in Midland Mainline is to increase capacity on branch lines like the one linking Corby," Stuart Humphreys of Network Rail said.