Fairline boats: Union calls for inquiry into private equity firms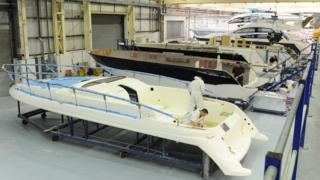 Hundreds of workers have been "left in the lurch" after a boat builder went into administration, an MP has said.
Staff at Fairline, which employs 450 people in Northamptonshire, were sent home by administrators on Wednesday.
Tory MP Tom Pursglove said he has written to the secretary of state for business to encourage an investigation into the company's management.
The Unite union has since called for a government investigation of private equity funds.
'Left in limbo'
Fairline, based in Oundle and Corby, was put into administration by private equity fund Better Capital ten weeks after it sold it to another company, Wessex Bristol, for a deferred £2m.
The deal meant the private equity fund remained a stakeholder in the company.
Mr Pursglove accused managers of Wessex Bristol of being "incredibly evasive" and of failing in its duty of care to Fairline staff.
The MP for Corby and East Northamptonshire said: "The workers have really been left in limbo."
Unite regional officer Mick Orpin also made calls for an inquiry.
A spokesman for Better Capital said it called in administrators as Wessex Bristol had failed to deliver promised funds to Fairline which were "essential for it to function".
But Ayiaz Ahmed, who runs Wessex Bristol, said he was "gutted" by Better Capital's decision.
He said: "We had a plan, and now the administrators are in our plan has been halted.
"I could have turned this business around - we were working an order book, working with dealers, we'd engaged all the right stake holders.
Administrators at FRP Advisory have warned of redundancies.