Adebayo Akinfenwa shirt too big for winning bidder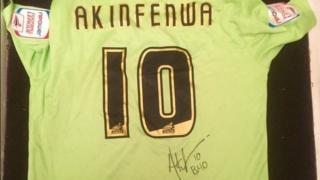 A man who paid £440 for a shirt belonging to a footballer known as "the Beast" is to have it framed and hung on a wall, as it is too big to wear.
Mark Faulkner was the winning bidder in an auction of the Northampton shirt Adebayo Akinfenwa was wearing when he scored his first hat-trick, in 2012.
Akinfenwa, who now plays for AFC Wimbledon, donated the shirt to help raise funds for the Cobblers.
Mr Faulkner, 29, said: "I'm an extra large - he must be four triple Xs."
The shirt was auctioned twice, because the first winning bidder failed to pay the £7,500 agreed price.
Mr Faulkner, a self-professed "diehard Cobblers fan" who lives in the town, was outbid in the initial auction so was delighted when it was relisted.
"It went for £440, so a bit of a bargain," he said.
He has fond memories of Akinfenwa's time at Northampton Town and said the club "should never got rid of him".
"He was a great player for us, scored a lot of goals and was a fans' favourite. He's even more of a hero now, donating the shirt."
Mr Faulkner said he met Akinfenwa during a pitch invasion following the play-off semi-final victory against Cheltenham in 2013.
"I ended up shaking his hand - he was absolutely ginormous, massive," he said.
"We had a bit of a joke with my mates that all four of us would fit in his shirt.
"Wearing it would be a bit too big, so it's best kept on the wall."
The Cobblers' troubles have eased since the initial auction, which started with the aim of raising money to save the club from a winding-up petition over unpaid tax, which has since been paid.
Facts about 'the Beast'
According to the Fifa 16 computer game, Akinfenwa is the "world's strongest player".
He became known as "the Beast" because of his imposing size - he weighs 16st (101kg) and can bench press 28 stone (177kg)
The striker has scored more than 160 goals in his career
He has a clothing range called "Beast Mode"
More facts about Akinfenwa here