Northampton Town Supporters' Trust to vote on how to spend 'fighting fund' cash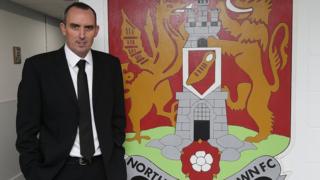 A football supporters' trust said it will vote on what to do with more than £40,000 it raised to save the club now an administration threat has lifted.
The cash was raised through an online fundraising website for Northampton Town when its future looked uncertain.
James Averill, from the trust, said it is open to ideas for what to do with the money.
He said returning the money would be "logistically awful", adding "it will be going towards something good".
"The plan is to put forward some ideas and get members to vote on what to spend it on," said Mr Averill.
'Open to ideas'
The insolvency threat on the club was lifted at the High Court on Friday when Northampton Borough Council confirmed it had struck a deal with new owner Kelvin Thomas over an outstanding £10.25m loan.
It was agreed the debt to the taxpayer will be wiped out in return for the authority acquiring land near the Sixfields Stadium for development.
Cobblers fans raised £40,000 through a crowdfunding page, but that figure is still climbing as a result of eBay sales and donations.
Recently, £440 was raised through the sale of a hat-trick shirt worn by former player Adebayo Akinfenwa.
The trust previously pledged that if the club did fold some of the money would be used to protect its charity commitments.
Mr Averill said: "It is not right to make a decision until we get the full amount in and we will then get members to vote on what to spend it on.
"We are still open to ideas and it is important not to rush into anything. It is important we consult with the fans."