Man killed mother at Duston flat 'after hallucinations told him to'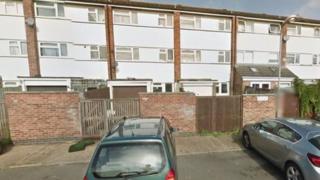 A man who had hallucinations telling him to kill his mother was seen swinging a metal television bracket at her, a court has heard.
David Love, 33, of Overslade Close, Northampton, pleaded guilty to the manslaughter of Sandra Thomas and was sent to a secure unit.
Northampton Crown Court heard he had paranoid schizophrenia but had stopped taking medication.
Judge Rupert Mayo said Love's symptoms had been "exacerbated" by cannabis use.
Love had admitted manslaughter on the grounds of diminished responsibility. He was ordered to stay in Arnold Lodge Secure Unit for an indefinite amount of time.
"You were a heavy cannabis user in 2014 and this exacerbated your symptoms.
"There were delusions that those who were trying to help were trying to harm you," Judge Mayo told the court.
History of violence
A lodger at Ms Thomas's flat in Duston saw Love attacking his mother, while accusing her of trying to kill him.
An ambulance was called but Ms Thomas was found dead at the scene.
Love had a history of violence and had been admitted several times to a mental health unit.
Dr Nuawan Galappathie told the court: "There is a very direct link between his mental illness and the killing.
"At the time of the killing he was experiencing hallucinations instructing him to kill his mother."