Northamptonshire sawn-off shotgun pair jailed for five years each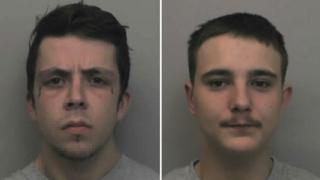 Two men have been jailed after being found with a loaded sawn-off shotgun.
Sam Cooksley, 22, and of Brooke Green, Wellingborough, and Daniel Stray, 18, of Lovell Court, Irthlingborough, admitted possessing a firearm.
Northampton Crown Court heard they were arrested as part of an undercover police operation.
They were found with a backpack containing the gun and four rounds of ammunition. Judge Michael Fowler sentenced them to five years each.
The court heard that the pair claimed the gun was for self defence, saying they had been targeted by gangs.
But the court heard they had not given the police any names of individuals to assist the investigation.
Sentencing, Judge Fowler said to arm themselves was not acceptable.
"It's bringing the firearm to the streets - it's not just bad for them if bad for society as a whole," he said.