World Conker Champion crowned in Northamptonshire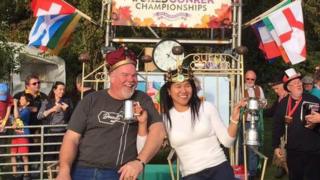 A new world champion was all-conkering after a day of fierce competition in a Northamptonshire village.
Some 200 entrants from 10 countries, including Japan, South Africa and the US, battled it out at the World Conker Championships in Southwick.
After smashing countless conkers, Steven Prescott and Amy Farrow were crowned King and Queen Conker.
Mr Prescott, of Henfield, West Sussex, beat Londoner Ms Farrow in the final to become overall victor.
Mr Prescott was also part of a group which won the team competition for the third year in succession.
The event started in 1965 and has grown year-on-year, with people playing conkers on eight podiums at the Shuckburgh Arms.
Under the rules, conkers are provided for each game and cannot be tampered with or re-used.
Each player takes three alternate strikes at their opponent's conker, with a game decided once one of the conkers is smashed.
Ringmaster Richard Howard told the BBC in the build-up to the competition that "the ones who are good at it are people with a good eye - people who are good at shooting, tennis players, sports people."
He added: "It's not often you get the chance to become a world champion."