Nether Heyford graves of girl and soldier could shed light on Dark Ages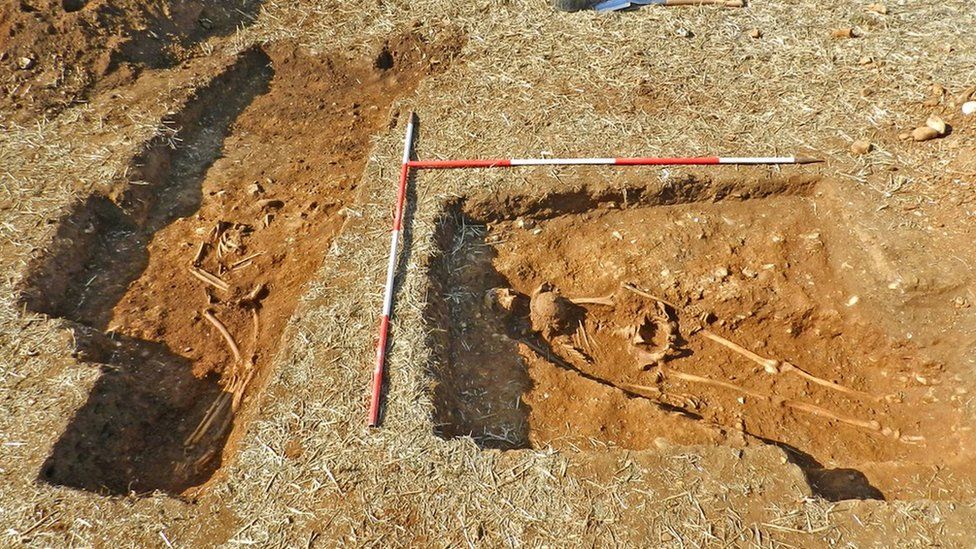 Two graves found in Northamptonshire could shed light on ordinary people's lives after the Romans left Britain.
The graves, near a Roman villa at Nether Heyford, contain a girl and an armed man buried in the Dark Ages.
They were discovered by metal detector experts working with the Community Landscape And Survey Project (CLASP).
Steve Young, ex-lecturer at Northampton University and archaeologist in charge, said the woman was probably a Christian and the man possibly an Anglo Saxon.
A lot more research still had to be done as the burials were made up to 100 years apart, he said.
He added: "The girl was buried around 480 AD and the Roman Army had left about 50 years earlier."
The adolescent girl's grave contains beads that could have been from jewellery. She was buried in an east to west direction, indicating a Christian tradition.
The man was buried with his shield, but all that remains is the metal boss which alerted the metal detector experts to the presence of the grave.
The remains of a buckle end, perhaps from a knife belt, were also found.
Mr Young said: "The man was not a member of elite, but probably belonged to an Anglo Saxon invading army at a time when the foundations of the later Kingdom of Mercia were being established.
"He was buried as late as 570 AD and probably belonged to an invading tribe from Europe."
There is very little information about this period and the excavation had to be carried out quickly as ploughing could have resulted in the finds disappearing for good, Mr Young said.
CLASP brings local archaeology enthusiasts together with professional archaeologists who lead activities and contribute specialist skills.
The 'amateurs' are encouraged to learn the skills of archaeological investigation.
Related Internet Links
The BBC is not responsible for the content of external sites.