Prospective Northamptonshire chief constables face Question Time-style grilling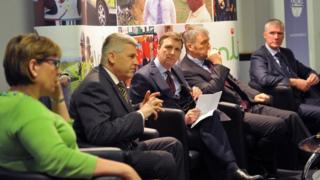 Candidates for a top policing role have taken part in a unique Question Time-style debate watched by officers.
The final four applicants for the role of Northamptonshire Police chief constable were grilled at a hustings-style event on Thursday evening.
They include three current deputy chief constables and the former chief of an Irish police watchdog.
Gez Jackson, from Northamptonshire Police Federation, said the event was "innovative".
The event was hosted by the BBC's Home Editor, Mark Easton, and included questions on cadets, how the police and fire service can better work together in the county and the reputation of the police.
Each candidate gave a four-minute speech before taking questions.
They were current Northamptonshire Police DCC Andrew Frost; Leicestershire Police DCC Simon Edens; Nottinghamshire Police DCC Sue Fish; and Simon O'Brien, the former head of Irish police watchdog The Garda Síochána Ombudsman Commission (and chief executive of the UK's Pensions Ombudsman Service).
Mr Jackson said he had received some calls from officers concerned that the event would be a PR stunt, but said it "can only be positive".
"I can understand why some people are cynical," he said, "but it was innovative and different and allowed interaction with staff and officers.
"The first time police officers normally know their new boss is when their name is announced."
The final decision on who will replace outgoing chief constable Adrian Lee will be taken by Police and Crime Commissioner Adam Simmonds.
What they said on Twitter:
A number of police officers attending the event took to Twitter, including the PCC.