Helpful Northamptonshire Pc becomes Facebook hit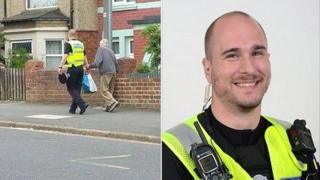 A policeman has become a huge success on social media after being photographed carrying the shopping of an elderly man in Northampton.
The image, which was taken by a passer-by, shows Northamptonshire Pc Chris Stevens with the man in Kingsthorpe.
The man had caught the wrong bus and had been struggling to get home when he was spotted by Pc Stevens leaning against a wall.
The picture has been shared almost 40,000 times on Facebook.
'Took his shopping'
After being brought to the attention of Northamptonshire Police they identified the officer on the force's Facebook page.
Pc Stevens said: "I saw the gentleman leaning up against a wall, so went over to ask if he was all right.
"I asked if he wanted some help. He said that would be good, so I took his shopping and he held my arm as we walked back to his house and we had a nice chat.
"It's nice that the police are getting recognition for doing good things, but it's nothing more than any of my colleagues would have done. These things happen on a daily basis up and down the country."