Cosworth struggles to fill vacancies at new Northampton site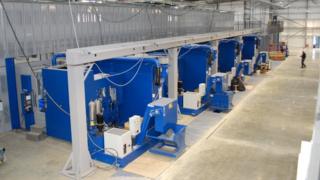 A motorsport engineering firm says it is so short of talented new recruits that it has failed to fill even half of 70 vacancies at its new factory.
Cosworth employs 175 staff at its main facility in Northampton.
It recently opened its Advanced Manufacturing Centre (AMC) which has a £75m forward order book.
The firm says many budding engineers have not been taught the skills it requires. Becky Bramfitt, of Cosworth, said recruitment was a "challenge".
A Cosworth spokesman said: "Recruiting the right calibre of staff to work in our new Advanced Manufacturing Centre is a top priority for the business but it takes time.
"Identifying the right people for the many different roles is a challenge but one which we are tackling head-on."
Of the 70 new AMC jobs, less than half have been filled.
Cosworth's recruitment difficulties follow the sandwich firm Greencore's bid to recruit most of the 300 new staff needed for its Northampton plant from Hungary.
Greencore said the reason it looked abroad was because of very low unemployment in the town.