Northamptonshire shoe exports to Japan 'worth £20m a year'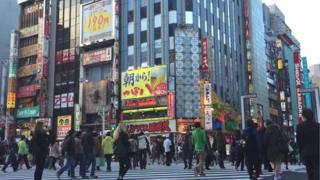 Northamptonshire's shoemakers are now exporting £20m-worth of shoes to Japan every year, with their value rising 45% in five years, it has been revealed.
More than 300,000 pairs are sent to the country each year, the British Footwear Association (BFA) said.
High demand for "luxury" and the strong pound has led to the rise in revenue.
John Saunders from the BFA said it was now "enormous business", but raised concerns about the lack of people taking up shoemaking in the UK.
Northamptonshire was once the shoemaking capital of the world, but many manufacturing processes moved abroad from the mid-20th Century due to lower costs.
But the remaining firms, such as Cheaney in Desborough, Church's Shoes in Northampton and Grenson in Rushden, have seen their fortunes flourish in recent years, selling luxury, handmade shoes around the world.
Crown Northampton Shoes now exports 70% of its products to the Far East.
Mr Saunders said sales in Japan had remained steady in recent years, despite the exchange rate boosting prices.
He said it was due to consumers wanting to buy "better quality shoes".
Mr Saunders said: "The sector is growing dramatically. We're looking at a sector that exports £1.25bn-worth of product every year.
"If you look at it from a period where the shoe industry declined during the 80s and 90s, Northampton has hung on and has got a world-renowned business."
However, Mr Saunders highlighted concerns about the lack of young people taking up shoemaking, saying that manufacturers were asking people to stay on after retirement to meet the shortfall.
"Manufacturing has become less sexy to the younger end of society and maybe it's also their parents that don't want their children to go into factories," he said.
"That's a change of mindset that's required and some education probably back into schools that there are career opportunities in this sector."
You can watch a series of reports about the success of Northamptonshire's shoes in Japan by following BBC Radio Northampton on Facebook