Northampton Greyfriars demolition: Mouth of Hell faces 'blow-down'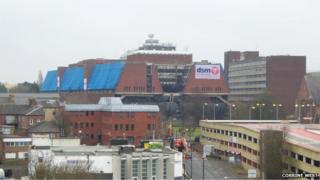 A bus station that has dominated the Northampton skyline for nearly 40 years is set to collapse in seconds after a series of "sharp bangs".
The "Brutalist" Greyfriars building will be subjected to a "blow-down". Road closures and an exclusion zone have been in place from 06:00 GMT.
A total of 414 homes will also be temporarily evacuated for safety reasons when the building is destroyed.
Retail and leisure schemes are now being considered for the site.
The exact timing of the demolition has not been disclosed, but it is not a public event.
Billy Young, from DSM demolition, said the "series of sharp bangs" would follow the explosives being set off in a sequence of detonations.
The 175m (574ft) long, three-floor building, which includes a car park, will be flattened in about 10 seconds, he said.
The 1970s building was once described as "like a great big mouth of hell" by Channel 4 presenter and designer Kevin McCloud.
Catherine Croft, director of the 20th Century Society, said: "Nobody will ever say Greyfriars is the best example of a building of the Brutalist period, but in years to come we might think it wasn't that bad."
The group aims to safeguard the heritage of architecture and design in Britain from 1914 onwards.
David Mackintosh, leader of Northampton Borough Council, said the demolition, costing more than £4m, will "breathe new life into this under-used area of town".
Mr Young added: "The exclusion zone is designed to keep people at a very safe distance from the demolition... so they are not impacted upon by the noise or the dust.
"We do not invite anybody to come along as this is not a public event."
Full coverage of the Greyfriars demolition will be available on BBC Radio Northampton from 06:00 on Sunday