Whistle-blower sues Corby Council for £1m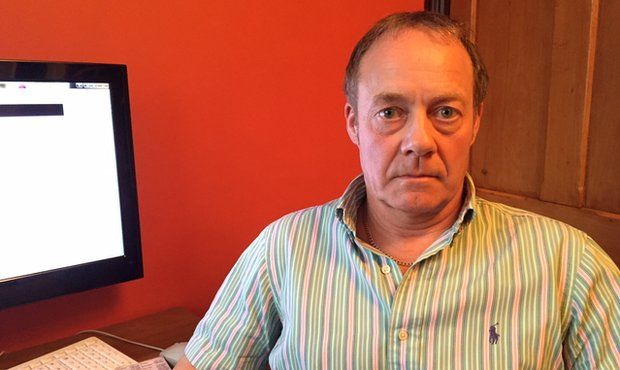 A council whistle-blower claims he was bullied to the brink of suicide after being "harassed, threatened, undermined and belittled" for revealing "financial irregularities".
Corby Borough Council's head of property Steven Redfern has lodged a £1m damages claim at the High Court.
Mr Redfern said he became "a target for people's venom" after complaining about high profile land deals in the town.
In defence papers, the council strongly denies Mr Redfern's claims.
According to legal papers, Mr Redfern reported concerns about a number of "unethical" land deals to the council in August 2011 and then to the Audit Commission two months later.
Mr Redfern said he was "bullied" after raising his concerns, with council officers talking "about putting nails in my coffin".
He was signed off work on 12 November 2012 with "depression and anxiety", having had suicidal thoughts.
In a BBC interview, Mr Redfern said whistle-blowing was a "sure way to terminate your career".
"I could not live with my conscience if I had not whistle-blown," he said.
The claim relates to a period between late 2008 and November 2012.
The court papers say Mr Redfern was "silenced" with threats of "disciplinary proceedings or dismissal".
They also say then chief executive Chris Mallender, who retired in 2013, displayed "threatening and belittling behaviour towards employees".
In papers submitted to the court, Corby Borough Council denies the behaviour of any of its employees amounted to "harassment, threatening, undermining or belittling conduct".
They also say Mr Redfern was not "silenced" by officers or subjected to threats of disciplinary proceedings.
The writ filed by Mr Redfern claims he told the council a deal to sell land at St James - earmarked for a Tesco superstore - was "massively undervalued" and "unlawful".
The Audit Commission later concluded the transaction "may have resulted in a loss of between £4.2m and £9.5m" and was "unlawful".
Mr Redfern also claims in the legal papers that the council had reported a deal for 146 homes in Kingswood "was making a profit when it was making a loss in the order of £1m."
Auditors KPMG said a decision to add £10m to the budget had exposed it to "additional risk" in 2010-11.
Its report, published in June 2013, supported many of Mr Redfern's concerns over the land deals.
The writ says Mr Redfern was subjected to "harassing and degrading treatment" for writing a critical report into the £47.9m Corby Cube project, opened in November 2010, which now has a £13m overspend.
The writ also says that following Mr Mallender's departure, pressure on Mr Redfern "increased".
Mr Redfern was told he needed to reply to "five grievances against him", days after being told he had been diagnosed as "having a predisposition to suicide".
The defence submitted by the council denies there was an intention to cause Mr Redfern "psychiatric injury".
It says Mr Redfern had brought a number of grievances but was also subject to grievances by other employees.
The papers say the authority had to balance its duty to taxpayers, to Mr Redfern and to other employees.
His solicitor, Des Collins, said: "Steven was subject to an awful regime after he whistle-blew. It has been a nightmare."
A council spokesman said it would be "inappropriate" to comment, while Mr Mallender declined to comment.
The case has been listed to go to the High Court in the summer.