Corby town centre land sold for more than £70m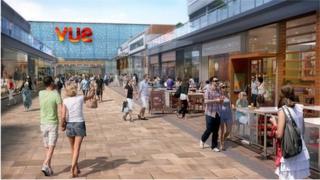 A large section of land in Corby town centre has been sold for more than £70m.
Owners Helical Bar have sold 700,000 sq ft of land including the old shopping district of Corporation Street, the Oasis Retail Park, Willow Place retail centre and a multi-storey car park.
It has been purchased by Europa Capital Partners and Sovereign Land.
Corby Borough Council leader Tom Beattie claimed the sale "is a vote of confidence" for the town.
The land was sold for £71.7m which will be used by Helical to repay about £40m of debt and increase the company's cash reserves.
'Extremely successful'
The company bought it in October 2011.
Planning permission has already been granted for a £10m complex, including an eight-screen Vue cinema, four restaurants, a 500-space car park and a gym, in Elizabeth Street.
Helical Bar investment director, Duncan Walker, said the town centre had been an "extremely successful" asset "having been acquired at the bottom of the market".
He said: "We are pleased to see them passed onto purchasers who will build upon our successes. "
Mr Beattie said: "We are keen to meet with the new owners as soon as possible."