Kettering GP 'breaches' NHS contract over new patient ban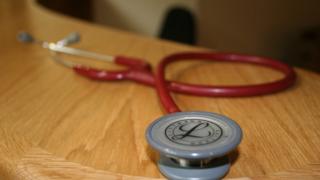 A doctor who stopped taking on new patients because of "safety" concerns is keeping the list closed despite it being a breach of his NHS contract.
Dr Hadrian Moss, of Dryland Surgery, Kettering, closed the list three weeks ago because of GP shortages.
He followed British Medical Association (BMA) guidelines but NHS England said the move was not acceptable.
Dr Moss said "safety and quality of service" at his practice would suffer if he took on more patients.
'Huge pressure'
Dr Richard Vautrey, deputy chairman of the GP committee at the BMA, said the organisation "stands by" its guidance, issued in January after legal advice.
He said practices nationally were struggling to recruit new GPs and those "left behind" were under "huge pressure".
BMA guidelines suggest doctors can close their lists if they feel taking on more would affect the quality of care for patients.
"NHS England should work to solve the recruitment problem rather than questioning practices trying to deliver services," said Dr Vautrey.
NHS England said contractual arrangements do not allow GPs to informally close their lists to new patients.
A spokesman said doctors would have to apply to NHS England for permission.
However, Dr Moss said: "They may bully us into reopening [the list], which would endanger patient safety."
Dryland Surgery's senior partner retired at the beginning of the year, reducing it to a five-partner practice.
It meant the number of patients allocated to each doctor increased from 2,090 to 2,500.
GP Magazine figures show the average list size nationally is 1,600 to 1,800 patients per GP. In Northamptonshire, the ratio is between 1,900 and 2,200.
Dr Moss, who has worked at the surgery for 29 years, said despite trying to recruit a new GP, no applicants had come forward.
Mark Simmonds, from Healthwatch Northamptonshire, said he was "concerned" the closure of patient lists might "increase the pressure on hospitals".
He said a Healthwatch study showed one in five people in the county went to A&E because a GP appointment was not available.
On Monday, Northampton Hospital's A&E department declared an "internal incident" as it has been running at nearly double its patient capacity.
Hospital management said patients had faced a three-hour wait.