Greyfriars demolition will create 'substantial dust cloud'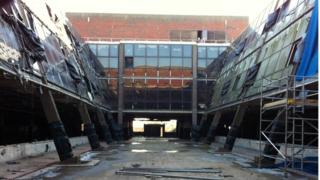 People living near a crumbling Northamptonshire bus station have been warned to expect a "substantial dust cloud" when it is demolished.
An exclusion zone is to be set up around Greyfriars bus station in Lady's Lane, Northampton, ahead of demolition on Sunday 15 March.
A total of 414 homes will also be temporarily evacuated for safety reasons when the building is destroyed.
Billy Young, of DSM Demolition, said a respite centre would be made available.
He said anyone unable to return home during the time the building was being demolished would be able to go there.
The 1970s building has been the subject of ridicule for decades as an over-ambitious example of bad planning.
It was derided by Channel 4 presenter and designer Kevin McCloud as "like a great big mouth of hell".
The first buses began operating at the new £7m bus interchange at North Gate last year