Fifty years since a plan that transformed Northampton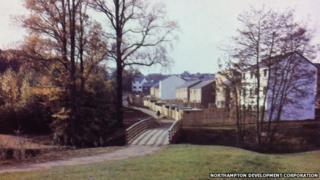 On February 3 1965, Minister for Housing Richard Crossman announced that Northampton was to be one of a number of new towns offering housing to people living in poor conditions in London. Fifty years on, the BBC looks back at how the announcement changed the town.
"I just can't wait to be in Northampton!"
So sang Linda Jardim in "60 miles by road or rail," the promotional track that helped attract thousands of people to make their new home in "Middle England".
The song, originally part of an advert that blasted its way out of car stereos across London, proved so popular that Northampton Development Corporation (NDC) released it as a single.
This successful marketing ploy was all part of NDC's plans to persuade people to move from overcrowded areas in London and Birmingham to the open spaces of Northampton.
Established in 1968, NDC spent £205m building vast new housing estates. Lumbertubs was started in 1970, with Moulton Park and Round Spinney following in the east of the town.
Briar Hill, Camp Hill and East and West Hunsbury were built in the south.
In all, 15,655 new homes were built between 1970 and 1985. The impact on the town's population was considerable.
In 1971, Northampton was home to 130,000 people. By 1984 the population had mushroomed to 163,000.
It sparked a growth that continues today, with the 2012 census recording around 212,000 Northamptonians.
John Dickie was elected as a Labour councillor to Northampton Borough Council in 1974.
He said people arriving from "crowded inner city areas" such as the East End of London and Birmingham to "an attractive green field site" had benefitted greatly from the expansion process.
But Mr Dickie added that while planners "looked down and saw this beautiful plan, they did not think about the people who had to live there".
Mr Dickie identified problems with signage around the new estates, parts of which are now ranked among the 20 per cent most deprived areas in the country, and he said the "old town folk" saw the expansion as a "sort of imposition".
He said: "The important lesson is planning should involve the people who live here."
Max and Di Lang moved to the newly-built Thorplands estate in 1972.
Among those encouraged to come to the new town were former servicemen and Mr Lang had been a Navy man.
He said: "Within four hours of coming to Northampton we had a house and a job."
The couple's three bedroom house cost £5,500 and although they only stayed there six years, they remain in Northampton.
"It has completely changed," said Mr Lang. "We used to look out from London Road at green fields, now you have to go three or four miles to get to them."