Sandra Dunham given 18 days' home confinement in US fraud case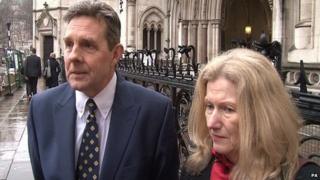 A woman who admitted a $1m (£640,000) expenses fraud and money-laundering will not spend any more time in jail.
Sandra Dunham, 58, of Collingtree, Northamptonshire, has been given a 60-day sentence, half to be served in jail and half in home confinement.
A court in Maryland ruled she should serve 18 days' home confinement as she had already spent 42 days on remand.
Mrs Dunham and husband, Paul, fought extradition to the United States after initially protesting their innocence.
The pair pleaded guilty to conspiring to commit wire fraud last month.
Sentencing of Mr Dunham, 59, has been delayed until next week.
Mrs Dunham will have to serve her home confinement in the US, where the couple have been staying with friends.
The couple's UK solicitor, Michael Evans, said: "We look forward to her safe return to the UK and await the outcome of the sentencing of Mr Dunham."
According to their pleas, the defendants had worked for US manufacturing firm Pace Worldwide which had a UK subsidiary named Pace Europe Ltd.
The Dunhams moved from the UK to Maryland and then North Carolina.
Mr Dunham held a number of executive positions, including president and chief operating officer, and his wife was a sales and marketing director.
Between 2002 and 2009, they fraudulently charged personal expenses to their corporate credit cards, submitting vouchers to Pace for reimbursement, falsely describing this as business expenses.
They had spent the money on items including a Barbados timeshare, luxury bedding and a dog sofa, US prosecutors said.
Following lengthy extradition proceedings, the couple were flown to the US in May.
In March they were taken to Northampton General Hospital after taking a drug overdose the night before they were due to hand themselves in to police and in turn to US marshals.
Last month, both admitted a fraud conspiracy and Mr Dunham admitted an additional charge of money laundering.
The seven wire fraud counts on the indictment leading to Mrs Dunham's extradition were dismissed.
Mr Dunham faces a maximum sentence of 20 years in prison for the conspiracy and money-laundering.