Northampton arts centre to open in Vulcan shoe works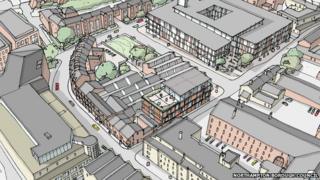 A Grade II-listed factory that used to make machinery for the boot and shoe industry is to be transformed into a £10m community arts centre.
The Vulcan Works is one of 14 buildings associated with the once-thriving 19th Century shoe trade still standing in Northampton.
The buildings between Guildhall Street, Fetter Street and Angel Street will be turned into 57 workshops.
The borough council has granted itself permission for the change of use.
The centre will become home to up to 60 creative and artistic businesses, creating an estimated 200 jobs, the council said.
Council leader David Mackintosh said: "This project will bring some historic buildings back into use... which we believe will prove a big draw for visitors."
The South East Midlands Local Enterprise Partnership said the project would receive funds through the government's Local Growth Deal, but has yet to reveal how much.
The Vulcan Works was built in 1875 for an engineering company called Mobbs & Co and was later turned into a leather warehouse.
The building has been largely empty since the late 1970s.
It is "considered one of the best surviving engineering works for the production of boot and shoe industry machinery", according to its Grade II listing.
The plans include meeting spaces and a cafe.
Some buildings on the 2,100 sq m (22,600 sq ft) site will be demolished and replaced, while the listed factory will be refurbished.
The Conservative-run council has yet to give a start date for work on the project, but hopes it could be as early as this spring.