Battle of Northampton site golf club told to stop development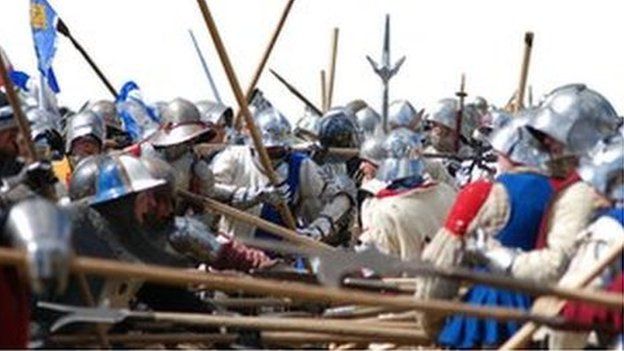 A golf club has been told to stop building work on the site of a major battle of the Wars of the Roses.
Delapre Golf Complex has removed top soil from a site where the Battle of Northampton was fought in 1460.
The Battlefields Trust said the development could affect a planned historical survey of the site. The council said it had told the management of the golf club to "stop work immediately".
The golf club is yet to comment.
Any work would need planning permission and the centre has been given 14 days to submit the necessary paperwork for the council to consider.
The Battle of Northampton was fought near Eagle Drive, where the golf centre's club house is sited in the grounds of the town's Delapre Abbey.
It led to the Yorkist Edward lV gaining the throne and the downfall of the House of Lancaster headed by King Henry Vl.
In 1453, King Henry VI had a mental breakdown and Richard, Duke of York, was made protector
The king recovered in 1455, but civil war broke out between the Yorkist and Lancastrian factions. The ensuing struggle came to be known as the Wars of the Roses
The period was seen as a time of enormous moral, military and political turmoil in Britain
The death of Richard III at the Battle of Bosworth in 1485, effectively ended the Wars of the Roses
The Battlefields Trust and the Medieval Siege Society are hoping evidence will emerge that can improve their knowledge of the battle.
Mike Ingram, of the Battlefield Trust, said: "The precise site of the Lancastrian camp is unknown and several theories as to where it was have been put forward.
"Only a full archaeological survey will determine its exact location."
Related Internet Links
The BBC is not responsible for the content of external sites.