UKIP candidate Dr Jonathan Munday apologises over STD tweet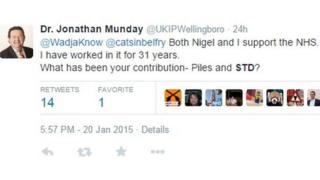 A UKIP parliamentary candidate said he had been "foolish" for appearing to suggest a woman might have a sexually-transmitted disease (STD).
Angry at a tweet claiming UKIP leader Nigel Farage did not support the NHS, Dr Jonathan Munday replied, asking the Twitter user if she had an STD.
He said as a GP, who had worked in the the NHS for 31 years, he was annoyed at his support being questioned.
Dr Munday, candidate for Wellingborough and Rushden, has apologised.
In his reply to the tweet, Essex-born Dr Munday wrote: "Both Nigel and I support the NHS. I have worked in it for 31 years. What has been your contribution - Piles and STD?"
In a statement, a UKIP spokesman said: "Dr Munday accepts that his response was foolish, and apologises for that, but after a long day in his surgery he was annoyed by false carping claims that he didn't care for the NHS.
"He feels that his 30 years as a GP stands for itself in his support for the NHS and our healthcare system."